What the bio on the book jacket says:
Sarah Jo Peterson is an independent scholar with over twenty years of experience in urban planning.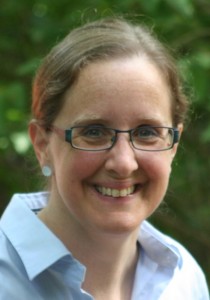 I began my career in planning in the early 1990s, and Planning the Home Front, the book and website, are works of independent scholarship in that they are not currently supported by an institution. I do it for love.
But, of course, there is more to the story. For one thing, love does not pay the rent.
But more importantly, that I've been a planner by day, historian by night, weekend, and holiday both before and during the production of Planning the Home Front has shaped my approach to historical research, analysis, and storytelling.
My more traditional bio reads like this:
Sarah Jo Peterson has a master of science in urban and regional planning from the University of Wisconsin—Madison and a PhD in history from Yale University. She began her career in planning at the Wisconsin Department of Transportation, specializing in transportation and land use, a focus that she continued to pursue while a member of the faculty of the Division of Regional and City Planning at the University of Oklahoma and during her years at the Urban Land Institute in Washington, DC.

In addition to Planning the Home Front, she has authored or co-authored numerous journal and magazine articles and planning reports.
Yet, this version seems flat. It is missing all the joy and slog of this work and my life. It is missing the love:
The delight in mystery and discovery, that began at Yale and continued through countless reels of microfilm, packed archive boxes, and the occasional accidental juxtaposition of notes. The wonderful year spent living in Ypsilanti, visiting numerous archives and learning the landscape of southeastern Michigan. The crazy road trip to the American Heritage Center in Wyoming. Enjoying the sunshine pouring into the reading room at the National Archives. Pacing numerous apartments trying to make sense of the sources or in sudden surprise at an expected turn of events. The summers marking daily progress in hours on a wall calendar, and the holiday weekends spent in my dog-walking clothes hunched over a laptop. Talking with patient friends, dissecting my latest obsessions and bemoaning the difficulties of argument, worried that I would never cut a clear path through the thicket. The satisfaction of finally putting a chapter to bed.
These too make up the "who I am" that went into this book.